Style Standoff is a competition game where other designers can come and vote for which designs they like most and which they think is the popular vote, earning design credits. The designs voted on are randomly chosen by the system from all users. A user cannot enter their design into the contest manually or know how others have voted their designs.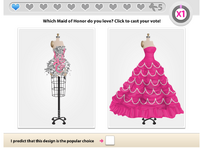 How to play
Edit

When a user clicks on the Style Standoff icon (located above the Wheel of Fashion and Runway Round Up icons), they are taken to a screen which shows two dresses. Now the user can decide which one they like most, and then decide which they think the public liked the most.

If the user gets their prediction right, they will earn a quarter of the multiplier bar which is located at the end of the row of hearts, to the right of the design credit sign. If their prediction is wrong, they will lose half of the multiplier bar. This means they will need four correct predictions to get a multiplier of 'x2', but two wrong predictions to go from 'x2' to an empty 'x1' multiplier bar.
The row of hearts shows the user how many more votes they need to cast in order to get their credits. Each vote fills up half of a heart, meaning that 20 votes need to be cast in order to get design credits. Once a day, a user will be able to receive 5 credits as a default multiplied by whatever multiplier they end up with after their 20 votes, but after that voting, they can only receive 1 credit multiplied by whatever multiplier they receive.