Sebastian is gay
Sebastian is secs
Sebastian is beautiful
Sebastian is scem e uerr
Sebastian is Sebastian
Sebastian doesn't have a surname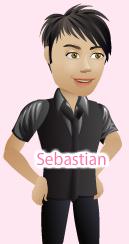 Sebastian
is one of the characters in the Fashion Designer game.
Appearances
Edit
Sebastian first appears in Level 4 in the Jazz Hands project. He then appears gay through most of the levels to give you projects.
Sebastian has olive-tone skin, hazel eyes and black, messy hair. He wears black trousers, top and tie.
He usually has his hands on his hips, looking to the side, putting his left arm up.
COMING SOON