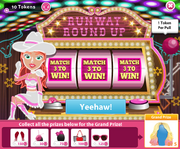 Runway Round Up is a mini-game inside of Fashion Designer.
Tokens are what is needed to play in the game. There are two ways to get tokens. First, for each fashion show a designer joins, they will be automatically awarded one token. Second, a user can purchase tokens with fashion credits :99999999
10 tokens for 10 fashion credits
40 tokens for 25 fashion credits
200 tokens for 100 fashion credits [BEST VALUE!]
How to play
Edit
The game is set up like a slot machine. Each pull (or press of the 'Yeehaw!' button) costs one token. From there, it's luck of the draw, much like in the Wheel of Fashion. The three slots will spin, and if all three of the slots match, the user would win the number shown.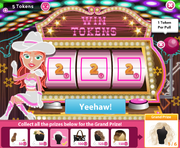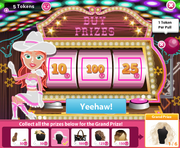 The prizes available for purchase within the game usually reflect the newest inspiration for fashion shows.