Lauren Riley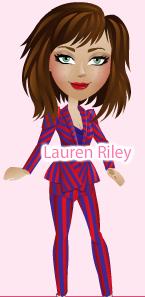 Lauren Riley
is one of the characters in the Fashion Designer game.
Appearances
Edit
Lauren first appears to you in the Level 6 project Nature Lover. She appears frequently throughout the game to give you projects to work on, as do the other.
Lauren has short brunette hair, green eyes and olive-tone skin. She wears a blue-and-red stripe blazer with matching trousers and a purple top underneath.
Her pose is usually smiling while doing a Saturday Night Fever-esque arm dance move.
COMING SOON!