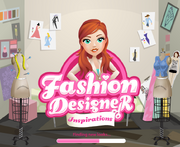 Fashion Designer
is an app on Facebook (otherwise called a Facebook game) designed to let users create their own fashions and show those fashions off in various ways. Fashion Designer used to be called Mall World's Fashion Designer, since the two games are connected, but the "Mall World's" was later dropped.
The game is fairly easy to play and understand. You become a fashion designer, with your own studio. You are sent clients who have specific projects of varying difficulty that need to be completed in order to earn experience and currency. For those bored with the main game, there are also several mini-games to be enjoyed. These include :
A designer can also send their designs to the market or buy the design for themselves.
There are two types of currency in the game : fashion credits and fashion dollars. Design credits can be used to unlock details, kits, and palettes in the store.